Monday, June 26 – Friday, June 30
Ages 7-12
Morning Session  – 9:00am – 12:30pm – $250 | Afternoon Session  – 1:00pm – 4:30pm – $250
Each session will consist of two parts; culinary program and art program. For one week, your future chef will get a hands-on culinary experience partnered with a series of educational art projects!
Pam Buchler, professional chef with over 30 years of experience and owner of Aquarian Catering will be leading the class. Pam has created a global menu where your camper gets to try their hand at a new recipe everyday! Campers will work together in the kitchen to bring their dishes to the finish line. From building Mexican street tacos to Thai chicken dumplings to deconstructed cannoli jars, your future chef will explore a variety of culinary techniques. At the end of the lesson, everyone gets to enjoy their creation!
During the arts session, your camper will create their very own recipe box and apron to take home at the end of the week! They'll also learn more about the connections between food, art, and history. Some of our projects will include making paint with egg whites, printmaking inspired by Japanese fish prints, potholders, and much more!
Registration closed
If you would like to volunteer for the camp please email finance@edmondtownhall.org and theater@edmondtownhall.org or call the main line at 203-270-4285!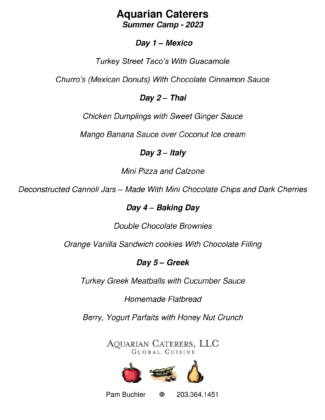 Check out Aquarian Caterers here.